About us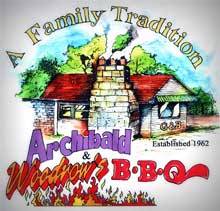 The lore surrounding Archibald & Woodrow's Barbeque is almost as thick and delicious as its eponymous sauce.
After opening in 1962, Archibald & Woodrow's Barbeque was just a mom-and-pop joint run by George and Betty Archibald.
Legend even has it that in the early days famed football coach Bear Bryant frequented the eatery, no doubt leaving with the occasional hot wing tucked under his iconic houndstooth hat. Though they started small, half a century and three generations worth of experience have seen the Archibald family spread their recipes far and wide, gaining acclaim from The New York Times, Good Morning America, and Southern Living Magazine.
George's and Betty's successors still use the same hickory wood to add a smoky richness to their meat and sauce. This imparts crispiness to outer layers of rib slabs while leaving pulled pork moist and tender, like a beaux professing his love and shuffling to remain dramatically under the oscillating sprinkler.
The staff serves their primary fare with bread and a choice of two sides—fried green tomatoes offer a tangy counterpoint to fried catfish, and slaw adds a creamy balance to the spicy flavors of half-chickens and hot wings.
Picked as one of America's Tastiest Ribs by USA Today!