History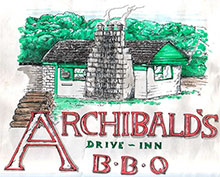 George and Betty Archibald opened Archibald's BBQ in Northport Alabama in 1962. The small cinderblock building where George and Betty first started serving ribs is still serving fans today!
George's and Betty's successors still use the same hickory wood to add a smoky richness to their meat and sauce. This imparts crispiness to outer layers of rib slabs while leaving pulled pork moist and tender.
George Archibald Jr. and his sister Paulette Washington have been running Archibald's BBQ. They were raised cooking ribs, making the sauce and cutting hickory wood. They in turn raised their children the same way. Family is very important at Archibald's.
In 2002, George and Betty's grandson, Woodrow Washington III opened a new location across the river in Tuscaloosa using the same receipies and slow cooking method. He called the new location Archibald and Woodrow's BBQ. Woodrow later added another location in Tuscaloosa.
In 2014, the third generation started operating Archibald's and now all three locations are owned by Woodrow Washington III. But dont worry, it is still a family affair, his siblings Lashawn, Reginald and Dalvin still help to carry on what George Sr. and Betty stared over 55 years ago.

And for the future of Arhibald and Woodrow's BBQ.... Woodrow has 2 kids!