Tuscaloosa Magazine
Best BBQ in Tuscaloosa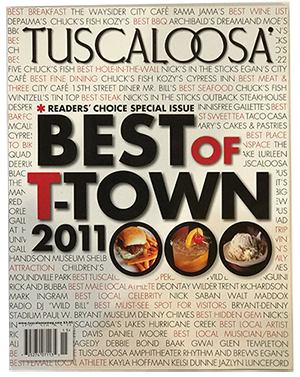 Drive down Martin Luther King Jr. Boulevard in Northport, and you'll see the little smokehouse puffing above rooftops before you see the building. Serving up slabs of fork-tender ribs and mouthwatering original sauce, Archibald's Bar-B-Q is celebrating their 50th anniversary this year. Hidden away atop a small hill along the street, the tiny cinderblock structure is a well-known spot for some of the finest 'cue in town.

George Archibald Sr. worked at Central Foundry, and in 1961 decided to open his own business in a small building in Northport. George Archibald Jr., the current proprietor, remembers getting his start in the barbecue business at the age of 7. "My first job was mopping the floor," said Archibald. "I started behind the counter when I got about 13 or 14. It just started off a job, but I enjoy it now. I've been doing it for so long, well, I've been doing it all my life."

When asked why his barbecue stands out in Tuscaloosa, Archibald replied, "well the pit's so old, it's seasoned. And we cook it slow using hickory and pecan wood," he said. "Also the sauce." The vinegar based sauce is made by Archibald's sister, Paulette Washington, and his niece LaShawn Washington Humphries. "It's got a little tangy taste to it," said Archibald. Everything is served with white bread, to be sure you don't leave a drop behind.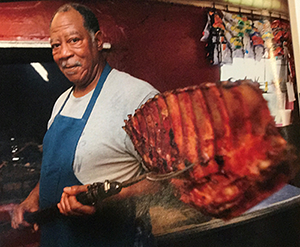 Archibald's sister and niece are not the only family members involved in the business. Archibald's has always been a family affair, with his mother and granddaughter also working behind the counter in the restaurant. His nephew, who has learned to cook barbecue at Archibald's has branched off and opened Woodrow's Barbecue with the same recipe.

Archibald's has hosted several celebrities, including the staff of Good morning America, several of the ESPN guys and, of course, Paul W. "Bear" Bryant and numerous football players at the University. If you ask Archibald why people come back, he'll simply tell you with a smile "it's good".